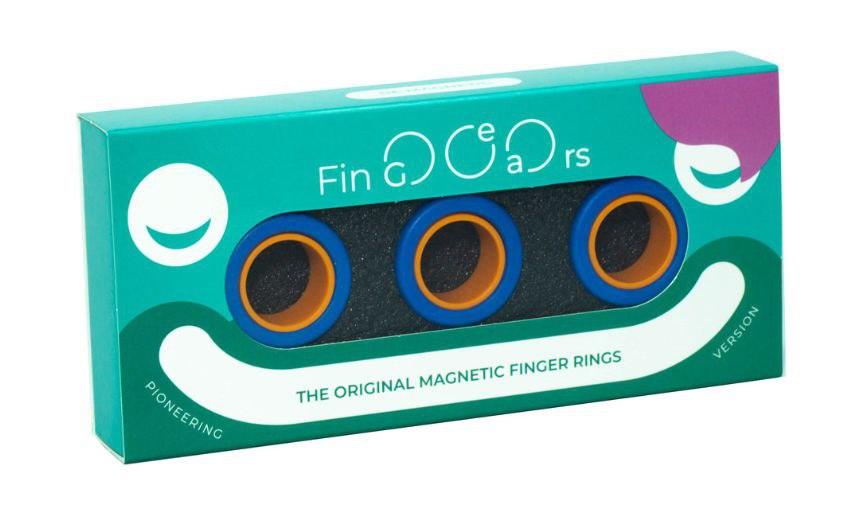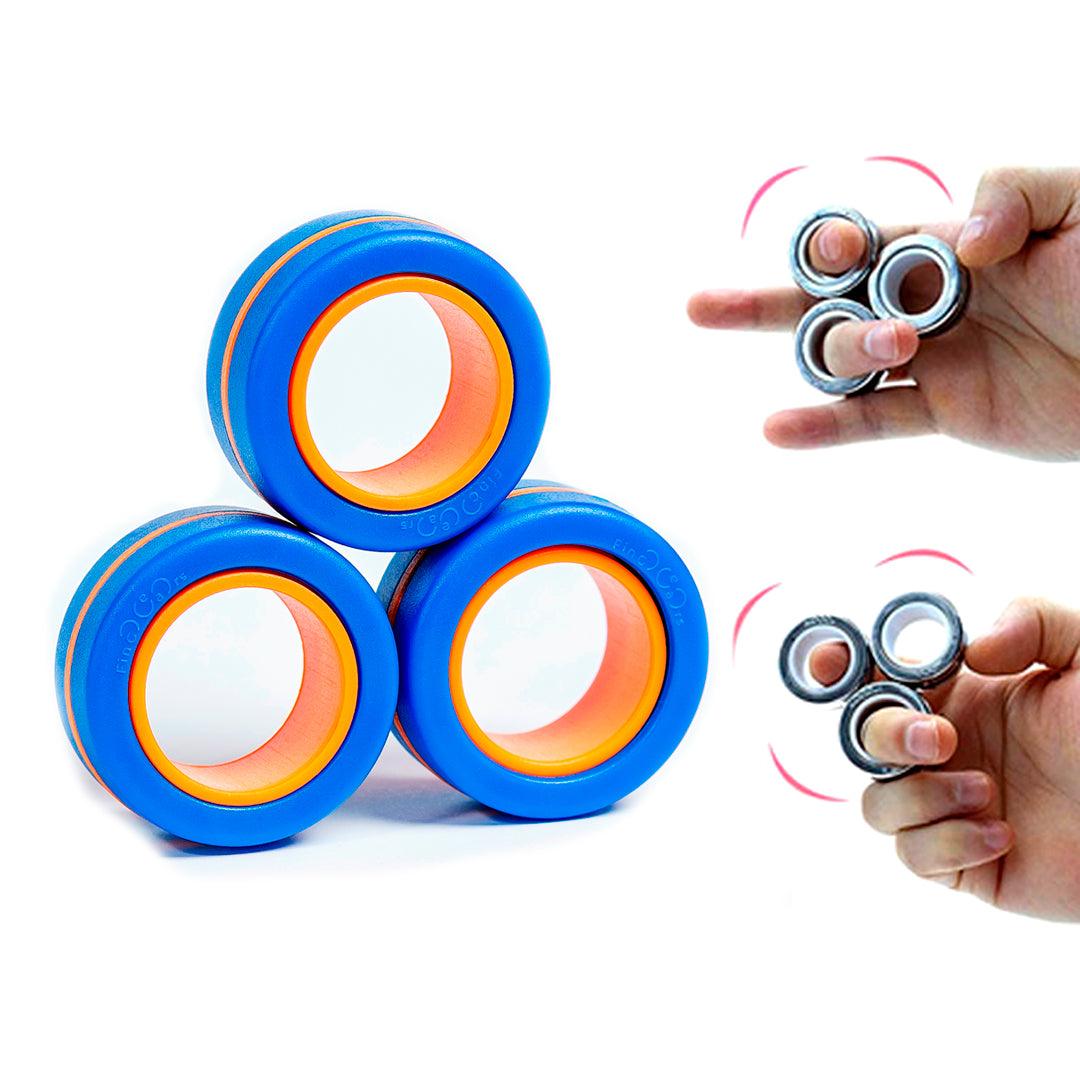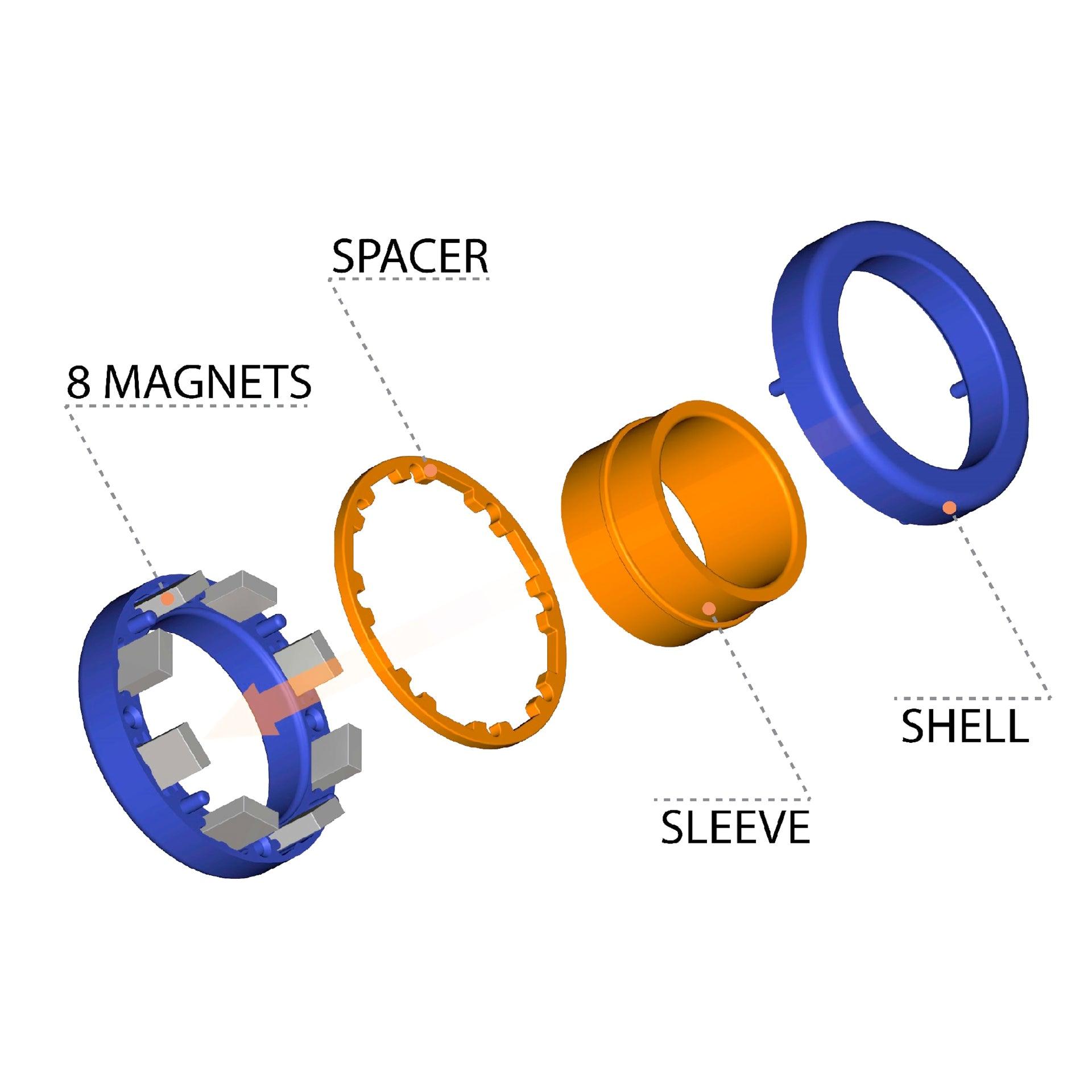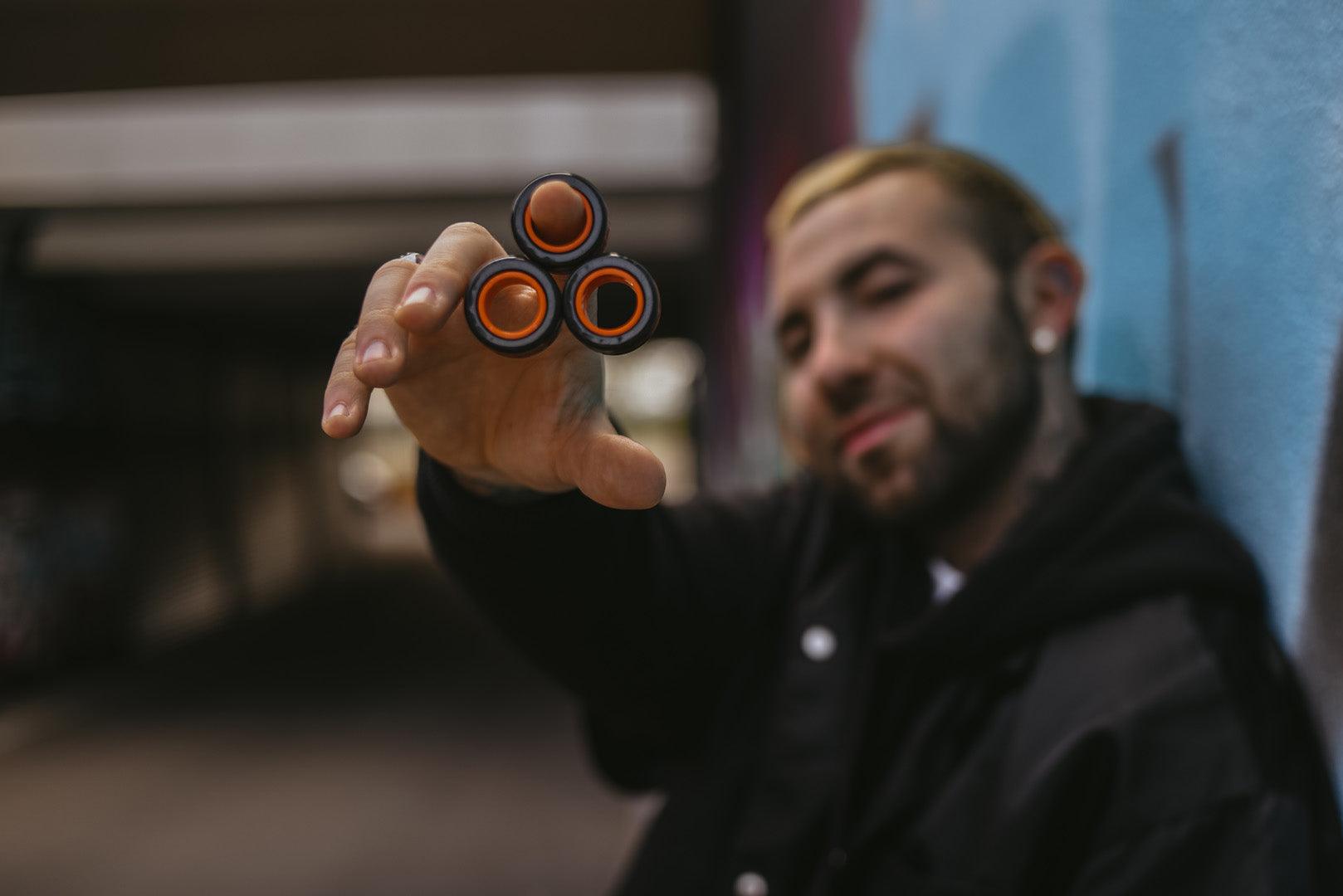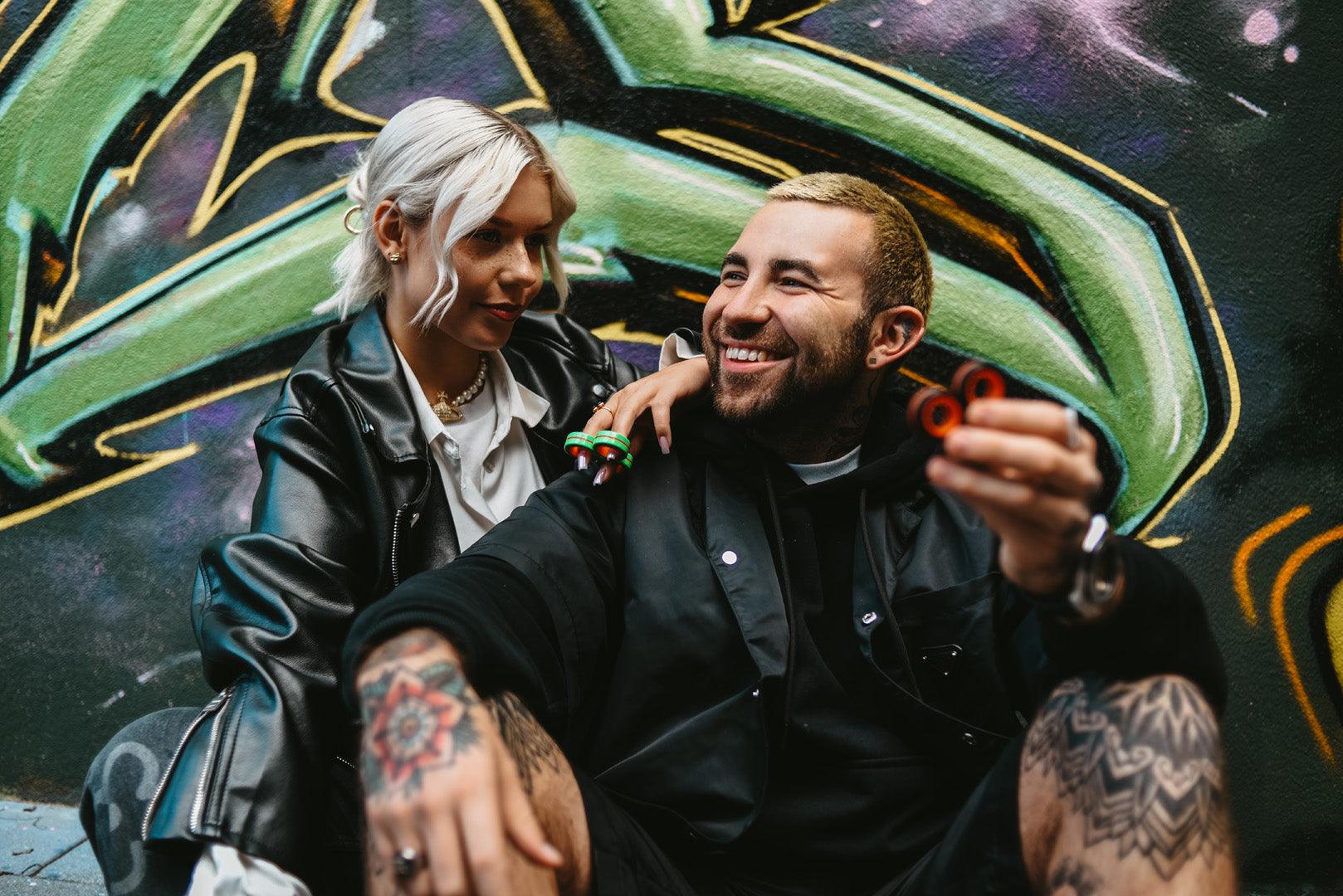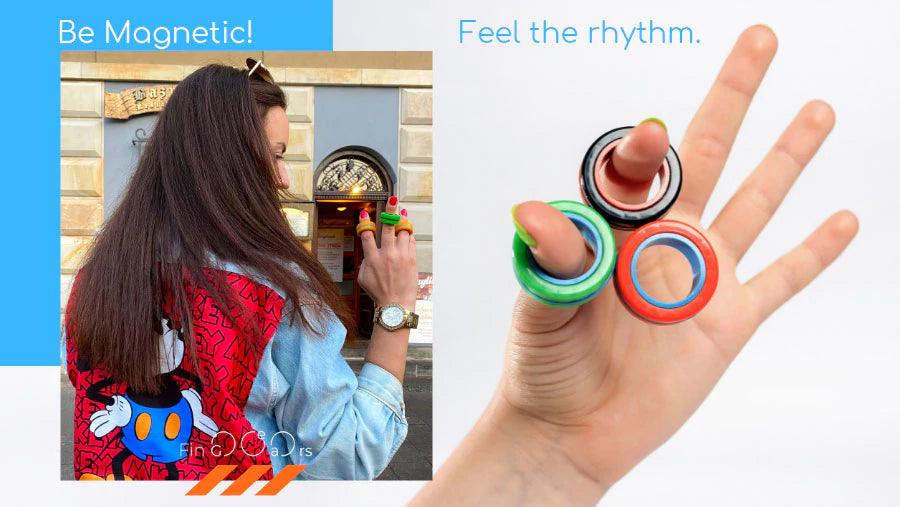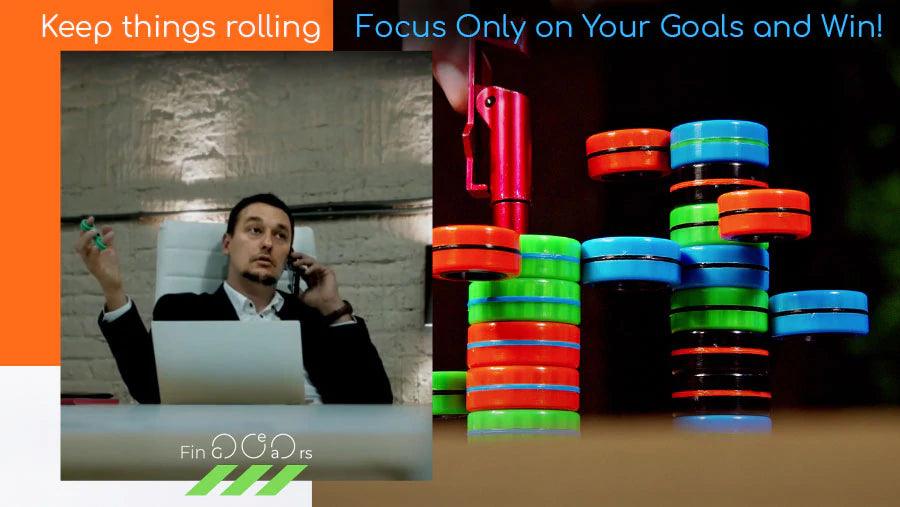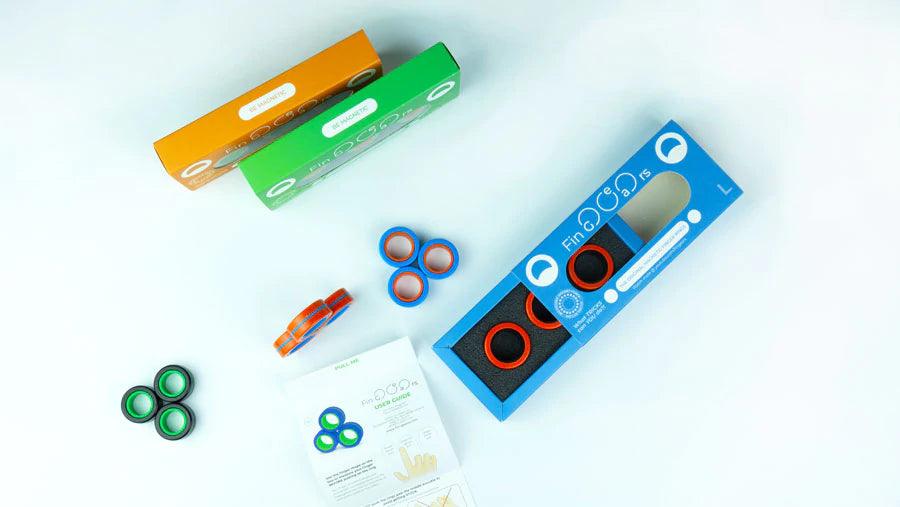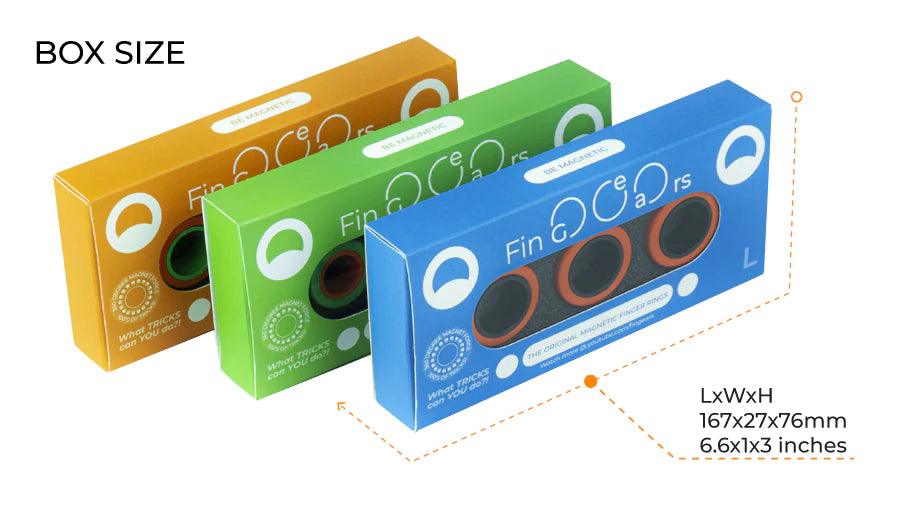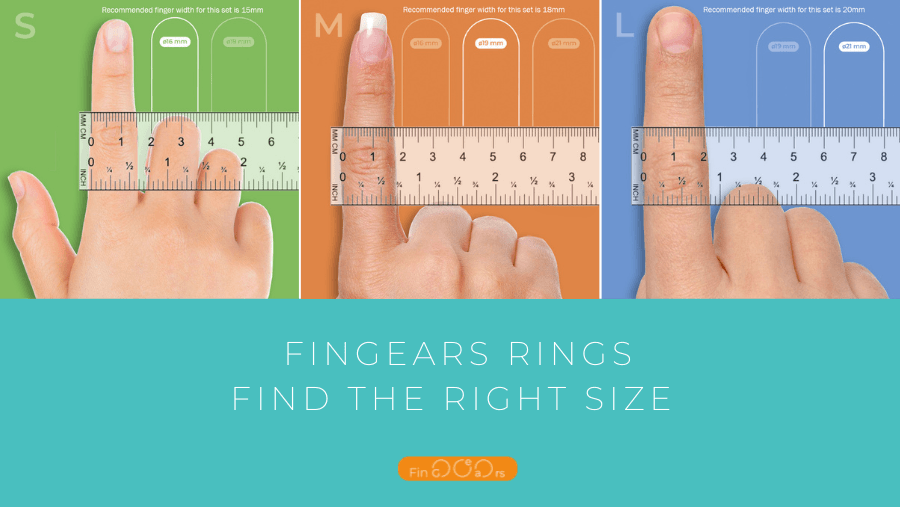 Content:

 

3 magnetic rings
Material: plastic + magnets
Size: M
Gross weight:

 

70g 
Package size: 165 x 75 x 25 mm
8 magnets
Country of origin: Ukraine


The sizes of FinGears rings are thought out in such a way that they are convenient for everyone to use. 
Size M - 19mm (0.7 inches).
We developed a print-out PDF to measure your inger size before you get the box too. This way, you can see with your own eyes which ring sizes are best for you. You can download here: FinGears Size
The FinGears community consists of people who have highly appreciated the original magnetic rings as a fidget to relieve mental overload. It is a sporting tool for the fingers used for passive neurogymnastics.
They are great for improving focus when dealing with ADHD, as confirmed by the psychological community.
It is a great fidget with which you can do many tricks. We offer several signature tricks on our website. There are also several board games with rings that you can play with your friends. Create your own moves and games with rings and help us bring a bit of positive emotions to this world together with FinGears!
M-19mm / Blue-Orange

.

FinGears M-19mm - Blue-Orange — is an original toy for fascinating leisure time and relaxation. Anybody, from a small kid to an elderly person can play with FinGears M-19mm. No learning needed to start playing, just put one ring on your finger, magnetize the rest ones to it, and here the fascinating game starts.
Fingears M-19mm original anti-stress
Light mini toy FinGears M-19mm will easily fit in your pocket or backpack. Stylish fidget will cheer you up and diversify your leisure time. The set includes 3 magnetic rings, for that reason playing with fidget ring is extremely convenient and always exciting.
The key benefits of FinGears M-19mm.  are:
✔Anti-stress magnetic rings; 
FinGears magnetic rings help to relax and relieve tension. Fidget is perfect for doing different tricks. You won't be bored with this toy, as you can create figures on your own. The Anti-stress Toy spinner ring will help you to relax and rest during the day. Smooth moves of the rings soothe and relax finger muscles.
✔Operational multipurpose;
The main purpose of the toy FinGears M-19mm — is entertainment and fascinating leisure time. It's way easier to keep your hands busy with FinGears, than spinning a pencil or a pen. People of all ages and occupations will be excited to get such a present. It's so easy to use the fidget, that even kids can do this.
✔Convenience of magnetic ring:
FinGears M-19mm - is always convenient and exciting. Small size of the product. The toy will fit in anywhere, and you can spin it at any time: outside, on break, or even while concentrating on the lecture. Monotonous moves of the fidget will help you to relax and switch from one activity to another.
✔New art opportunities with magnetic finger ring;
It's convenient to create unusual and complex figures with the toy from FinGears M-19mm collection. To implement your challenging idea, you may need another set of fidget. You can play FinGears M-19mm not only on your own, but also among friends. Surprise your friends with handling rings and doing tricks. 
✔Developing fine motor skills:
Daily exercises keep your finger joints in shape. Rhythmic moves of FinGears help to increase speed movement of your fingers. Fidget will distract a kid from computer games, and will become an irreplaceable part of workouts, time at the park, or at home.
✔Standard sizes of FinGears M-19mm. Silver
You can choose the product in the PDF-file on the website fast and easy. Package size: 165 х 75 х 25 mm. Product weight 0,780 g. Convenient packaging, where you can keep and carry magnetic rings toy, will make it easy to find it quickly in your bag or backpack.
✔Exercising concentration productively;
Magnetic spinning are irreplaceable while having strong mental activity, thus it's suitable for school kids, students, and adults. Being distracted by the game helps to change focus, find the right solution, and definitely rest after working day.  
✔Hypoallergenic FinGears M-19mm;
Fidget is made out of plastic and metal, doesn't irritate skin, has no smell. Fidget ring can be also used by people prone to allergic reactions.
✔High quality product;
FinGears products are made in Ukraine, certified and licensed. They meet all the international quality standards, that can be proved by a number of examinations.
✔Stylish design.
The toy FinGears M-19mm. Silver looks stylish. Besides, modern anti-stress toy FinGears is strong and resistant to mechanical damages.
Order product at affordable prices in US and EU countries
FinGears Company – is the leading manufacturer of anti-stress toys with fast worldwide delivery. Thanks to many years of experience and adoption of advanced technologies, today we introduce collections of FinGears original anti-stress, which are chosen by adults and kids around the world for useful leisure time.  
Only original products are available for purchase on our website, order today
You can buy FinGears M-19mm-Blue-Orange in US or EU just with one click. The questions regarding buying FinGears M-19mm can be sent to the e-mail or you can contact managers of our company. Qualified experts of FinGears will answer all of your questions and recommend the best FinGears original anti-stress toy.
FinGears Company – is Magnetic rings for sale for modern and useful leisure time. 
So good!
I bought the cheap knockoff ones on Amazon- loved the concept, but the magnets were so weak. Then I found the original -Fingears. These magnets are amazing. They work great. I love them. My go do fidget toy.
Thank you for your feedback. We are glad you are enjoying your Fingears!
Amazing
I'm autistic and adhd and I was desperate for a good fidget.I looked all over the internet for the best magnetic rings and when I heard that fingears were the original ones and the best I came to this website . I ordered this product without realizing it was the cheaper version and was kind of disappointed because of the other reviews . When I got them I was truly impressed. Don't listen to the bad reviews!!! I don't have the 16 magnets vision yet but if the 8 magnets one is so incredible I can't even imagine how great the original ones will be. Truly an amazing product. Best fidget ever
Thank you for your feedback! We are very happy you are enjoying your Fingears!
everything about them is amazing they are smooth and they help with anxiety
Thank you for your order!
"FinGears is NOT a spinner"
All products are licensed and certified. 
Fingers are completely safe even for the smallest fans